Gena (Orr) Burch with Steer named "Red"
Shown in 1965: Res Gd Middle Park Fair
Kremmling, Colorado
3rd in class in Chicago, Illinois
3rd in class in Denver, Colorado (National Western)
BULLARD FAMILY
L to R Kera, Madison, Trevor and Jason
CLICK TO READ HER STORY
CLICK TO READ HER STORY
FULLER FAMILY
Rena, Kurt and Hesston, age one
BROCK BURCH FAMILY
L to R: Kylie, Kendall, Brayson, Brewer and Brock
CLICK TO READ HER STORY
CLICK TO READ HER STORY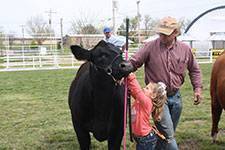 I was raised on a ranch near Kremmling, Colorado in the 1960's.  My great granddad was Fred DeBerard.  He showed a lot of cattle in his day (Herefords).   My dad's side of the family (Orr's) purchased the ranch from my mom's side of the family (Smith's) in l957.

It was a hectic and busy childhood. My siblings, cousins and I showed a lot of show steers.  We were very competitive.  I grew up with an energetic passion to get outside as soon as possible each and everyday.  We rode a lot in the mountains pushing cattle, checking and doctoring cattle.  I did not care if I was sick, I was going to ride and be with those cows.  I drove my parents crazy with my insane drive to be outside with the show steers, raking hay, riding, playing with the siblings or whatever I could help with.  I loved all of it.  At 62, I still love agriculture.  It is the backbone of this nation.   
In 1983, Kelly, my husband and I, purchased a farm near Casper, Wyoming.  With an "intense" labor of love (love of labor), we are still here today.  I can honestly say we are enjoying the fruits of our labor.  We, mainly Kelly, Brock and Kolby,(our 2 sons),  have built a strong- genetic herd.  We have 3 on line sales a year.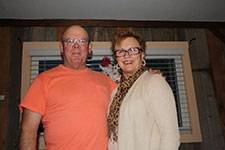 We partner with Brock and Kylie Burch on cattle, BUT we also partner with Rena Fuller and Kera Bullard (and families on cows).  We have had to work out some "kinks" but it has been truly amazing working with these women who adore and love owning "cows".  These women know a lot about the "club calf" industry and contribute a sincere amount of work and knowledge.  We could not do this without our partners.  We would not be where we are today without these women, their families and their sincere work ethic and wisdom. 
We also have cattle with Stormie Russell, Mason sisters and Burt Andreen.  We are amazed with the fact, that as we grow older, we are truly passing on a legacy to our future generations.  It is truly "fun" to watch our grandkids, Kera and Jason'a 2 and Rena and Kurt's son progress with "cows". 
When I was 8 years old, my family moved from town to the country, right down the road from the Burch Family. Gena encouraged my parents to sign me up for 4-H and the next Spring, the Burchs gave me a market lamb, took me under their wings and hauled me and "Ed" all over the state to jackpot shows. I was hooked on showing from then on! The Burchs were like my second family and I loved travelling with them to livestock sales, shows and fairs. My love of agriculture and livestock grew and I continued showing through FFA. I knew then that I wanted a career in the agriculture industry. In college, Kelly became my coach, teacher and mentor at Casper College. Through livestock judging, I traveled the country and was afforded many opportunities; learning livestock evaluation from one of the best, networking with like-minded individuals and judging high quality livestock at some of the top operations in the country. Attending senior college at Texas Tech University furthered my education in agriculture and attending all the major shows in Texas inspired me to continue to be involved in the livestock show industry. About 5 years ago, I approached Gena and Kelly about running some cows for my husband and me on shares. With 2 young kids, I wanted them to be exposed to agriculture since we currently live in town. Thankfully, they said yes and Kelly drove to South Dakota to pick up 12 cows that we purchased from Reimanns. That was the start of our cattle herd. Last year was our daughter's first year in 4-H. She showed a steer and heifer from Gena and Kelly and another steer out of one of our Reimann cows and I'm thrilled to say that she had a very successful first year! Watching her show fills me with incredible pride and tremendous gratitude that our children are afforded the opportunity to gain the values and responsibility that naturally comes with raising and showing livestock. Teaching my kids and working alongside of them on daily hair care, showmanship and hauling them to shows has strengthened our family bond. I also love that my kids have developed a relationship with Brock & Kylie's kids and they all adore each other! I am so grateful to Gena and Kelly for taking me in all those years ago. I know that my course in life would have been much different if it wasn't for them and I thank God everyday that the Burch Family came into my life and now, my children's lives are being shaped by them as well.
I grew up in northern Utah where I was actively involved in Weber County 4-H and FFA. I showed sheep, cattle and market hogs. In 2001, Kelly Burch judged the Weber County Fair and offered me a livestock judging scholarship to Casper College.

I attended Casper College from 2002 – 2004. I had never been away from home before. I soon realized that if I went to the B urch Farm when I was not on the judging van and helped work livestock, clean barns, lamb and calve, then the homesickness was not as bad. I loved spending time on the farm with the cattle. I still do. When Gena was battling cancer, I helped as much as I could. Gena made a full recovery, and she and Kelly gave me one-half interest in a heifer calf. I was hooked. While I was in Casper, my nieces and nephews reached show age; they have all been very successful with Burch-bred livestock. I always knew I wanted to own cattle and build my operation around Burch genetics.

I completed my Associates Degree in General Agriculture from Casper College. I went on to obtain a Bachelor's Degree in Agricultural Education with a minor in Animal Science from Utah State University. I now live in Kettle Falls, Washington with my husband, Kurt, and our one-year old son, Hesston.
I grew up watching the dedication and passion my grandparents had for agriculture. I was blessed to be able to spend a great deal of time with them as I grew up and to this day. Although watching my grandparents manage a farm and succeed in an industry which demands a great deal of faith with its infinite variables and unknowns, I was less than prepared for my life on the farm as a new addition to the Burch family. Becoming part of the family operation was not without its trials and tribulations, but through these trials and tribulations my respect and love of my family, agriculture, and especially the cattle industry grew.

I married Brock knowing and appreciating his burning passion for the cattle industry. His love and determination for raising great cattle has inspired me to become an active partner in our cattle operation. Our family's most memorable moments are made with our cattle! I am blessed to be part of this family, this lifestyle, and want nothing more than to share my love with our three children so they to can pass on a love for agriculture which their ancestors have worked so fervently to preserve.